Jordana Sands (Jordan) is the creator of these art works managed by ArtDeco Digital Asset Management are currently on sale or sold at the NFT marketplaces. For Details please visit:www.artdecodam.com or email: contact@artdecodam.com
Don Williams of Channel 4 TV News filmed a TV live interview with Jordana in her studio. They filmed her visual and performing art show at Cinnecitta to commemorate John Lennon. Jordan's John Lennon portrait, "Strawberry Fields" was on show for the entire year. This coverage brought a number of commissions for Jordan psychic portraits. Jordan along with her celebrity psychic portaits were seen a number of times on the Joe Franklin TV Show. Jordan presented Joe with his portrait at her 57th street Grand Central Gallery opening.
AFFORDABLE PSYCHIC PORTRAITS BY JORDAN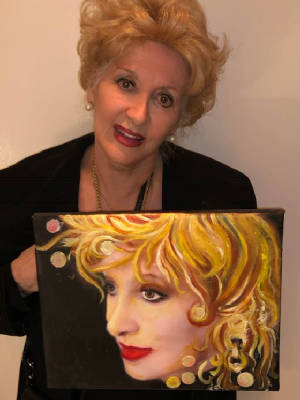 PRICES ON PSYCHIC PORTAITS DEPEND ON THE COMPLEXITY OF THE SUBJECT AND PEOPLE CAN BE QUITE COMPLEX
"SHIRLEY INCARNATE"
The beautiful and vibrant Shirley MacClaine
and her inter-lifetime travels
"THE WORLD OF WOLFE"
"Writer Tom Wolfe creating himself
over and over again in his own image."
Jordan along with her psychic portraits were on the Joe Franklin TV show a number of times and Jordan presented Joe with his own portrait at her Grand Central Gallery Opening. Jordan's portrait of Madonna entitled "Mad-Donna" was published in "Madonna in Art" in the UK. Jordan has painted numerous psychic impressionist portraits of celebrities for charity functions, tributes and memorials.